Out of pure curiosity, I transcribed this 40-page reminiscence written by a seaman (possibly a steward)* who served on HMS Wanderer 1839-44, alongside Hodgson, Peglar, and Gibson. None of them turned up until the very last page, when the anonymous author gave the following memory of Peglar.

H Peglar opened a beer house in Westminster and after the beer was all gone, went to the North Pole and perished with Sir John Franklin and others of the ill fated polar expedition."
On RTFE, Russell Potter pointed out that this new fact aligns with a reference in the Peglar papers: "grog shop that stood opporsite…. my bisness to a P. R. thar the b… was a parlor Ht. (?)neping over young wines"
Russell suggested that "P.R." might indicate the person that Peglar sold his business to before leaving on the expedition. He was born and raised in Westminster, so it would make sense that's where he'd open his "grog shop" in the first place: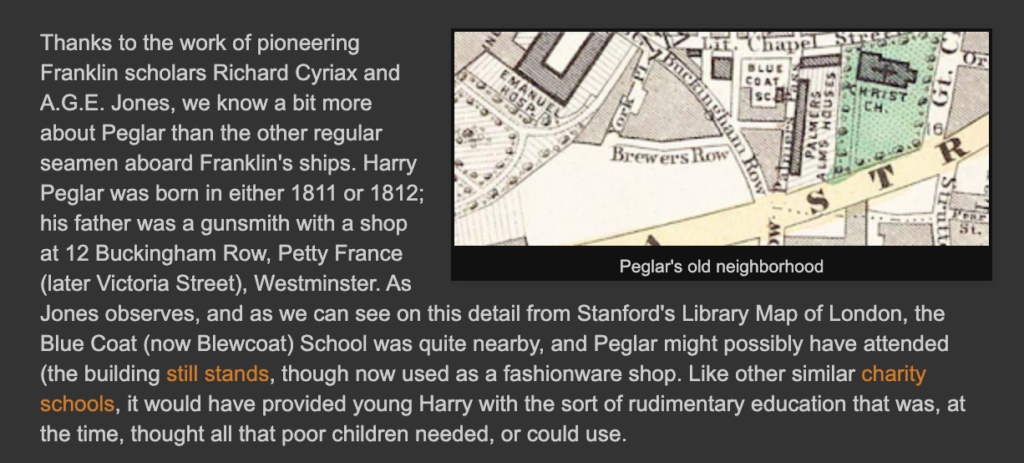 With the help of Logan Zachary, I used the handy Pubwiki website to track down at least one venue that first opened as a beer-house in 1844: The Trevor Arms at the corner of Charles Street and Knightsbridge High Road.
I corresponded with an archivist at the Westminster City Council archives who informed me that "The number closest to Charles Street listed is 26 which is a Public House called the Rising Sun. In 1844's issue the listed name after The Rising Sun is Henry Austin Adams and in in 1845 it is William Bacchus."
Of course it's still entirely possible that The Rising Sun was indeed Peglar's pub and that Adams and/or Bacchus were business partners of his. Or perhaps it's a red herring! If we take the reminiscence as truth, then Peglar only had the beer hall open for less than a year (July 1844-April or May 1845), which seems like it would make it hard to find, especially if it was a temporary ownership or some kind of limited lease or managership, or even an unlicensed venue.
Under the name "The Trevor Arms" (the name from the original Pubwiki page), an advertisement was put up in April 1845 for help wanted—which might have indicated that Peglar was leaving and required a replacement…  
Unless it was a totally under-the-table operation, or perhaps Peglar was involved only in person and not in name, records of the business are still likely to exist, and hopefully I get the chance to investigate further when I visit London in January.

---
(*The papers are in the Admiral George H Douglas papers held by the National Maritime museum, and while Douglas did serve on the Wanderer at the right time in between passing his examination and being promoted, this was clearly not written by him, and may have been given to him as a gift by the author later in life.)